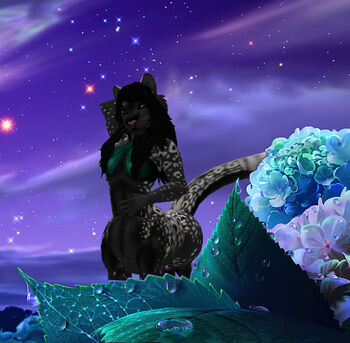 Description

Species:

Chakat

Gender:

Hermaphrodite

Height:

5' 4"

Fur Pattern:

Inverted Snow Leopard (Black fur w/ white rosettes)

Eye Color:

Gold/Orange

Hair Color:

Black
Family Info

Mother:

Chakat Moonsong

Father:

Riversprint (Wolftaur)

Lifemate:

Gatenanupshalu (Folftaur)

Denmates:

Muertos la Rosa de Medianoche
Starpelt was born to Chakat Moonsong and hir adopted brother-turned lifemate Riversprint. Hir father was raised by chakats after a terrible accident left him abandoned as a cub. He grew up with Moonsong and they eventually became lifemates. Although not being raised by the pack Riversprint (the name given him by his Chakat family) had a strong affinity for the wilderness and took to path finding and scouting like a fish to water. He currently works for the Star Corps as a planetary scout.
Starpelt's mother is a high school music teacher and began teaching hir daughter the joys of music from an early age. Starpelt quickly showed a high degree of aptitude for wind instruments, particularly the flute. Shi has become an accomplished flautist, specializing in the Japanese shakuhachi. Shi has played with the Baltimore Symphony, the Philadelphia Orchestra, and the San Fransisco Philharmonic.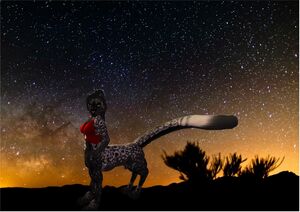 During hir college years, while on a hiking trip with hir dorm friends shi met a folftaur with two tails. The folftaur was near starved and badly dehydrated. Starpelt and hir friends helped the folftaur who, after a night of careful nursing from Starpelt, told them his name was Gatenanupshalu and that he'd been outcast from his pack. Knowing of hir father's past, Starpelt convinced Gate to come home with hir, sure that hir family would help him. The two soon fell deeply in love and have been inseparable ever since.
Starpelt is a registered member of the Double-H club in GNA and likes to visit local chapters whenever shi touring in other countries.